We adore love stories here at Team Wedding, but we REALLY adore this one.
Once upon a time, I went to highschool with the sweetest girl named Krista. When she got engaged, I was so thrilled that she immediately reached out to me so I could help her plan her dream wedding to the man of her dreams, Kevin. We're so excited to share this special day with you, captured so amazingly by Jennie Andrews Photography.
As you can see here, they're the most adorable people ever.
But besides being so sweet and kind and funny, they also have the best, nerdiest, wonderful love story ever.
Krista and Kevin met online playing World of Warcraft. When I first heard that, it didn't surprise me as Krista was an avid player in high school! But what made it even better, is that they started talking to each other because they were waiting for the same book to come out, and when it did they read it together. YOU GUYS. We can't even handle how adorable it is!
They ended up falling in love, and to start their happily ever after Krista and Kevin wanted to use their love for reading as inspiration for their perfect day.
I was so excited by the opportunity to combine Krista's beautiful blush and teal color palette with a vintage flare of books. For the ceremony, we created a library backdrop using all of their most cherished and treasured books. We added trinkets and vintage items to give it a cozy, vintage reading room feel.
But we couldn't stop with just the backdrop. We really wanted to give the room a truly magical feel, so we surprised Krista and Kevin with pages suspended in the air of their favorite novels.
But to me, the most magical part of this ceremony is that I had the overwhelmingly joyful honor of writing the vows for Krista and Kevin. I wrote them in theme for our book lovers starting their own story, and for their unity ceremony the two actually used an old feather pen to write the first line of their vows. With the help of Tri Star Scribe, the vows were then finished so they could have them to keep forever.
The ceremony was beautiful, but the reception was the real treat of the evening!
For cocktail hour, the couple had two signature drinks that perfectly captured their "punny" personalities!
We wanted to give everyone a truly unique and fun experience for the photobooth, so we built giant book palettes to place behind Sisters Vintage breathtaking audra couch!
After cocktail hour, guests entered the reception, which was one of our favorites of all time.
We used teal linens from White Table and gold chivari chairs with pink chair sashes from Events by Rothchilds to bring her vision to life.
We really wanted to incorporate not only their passion for reading, but the books and words that mean the most to them. Each table featured a quote from one of their favorite books about love and adventure.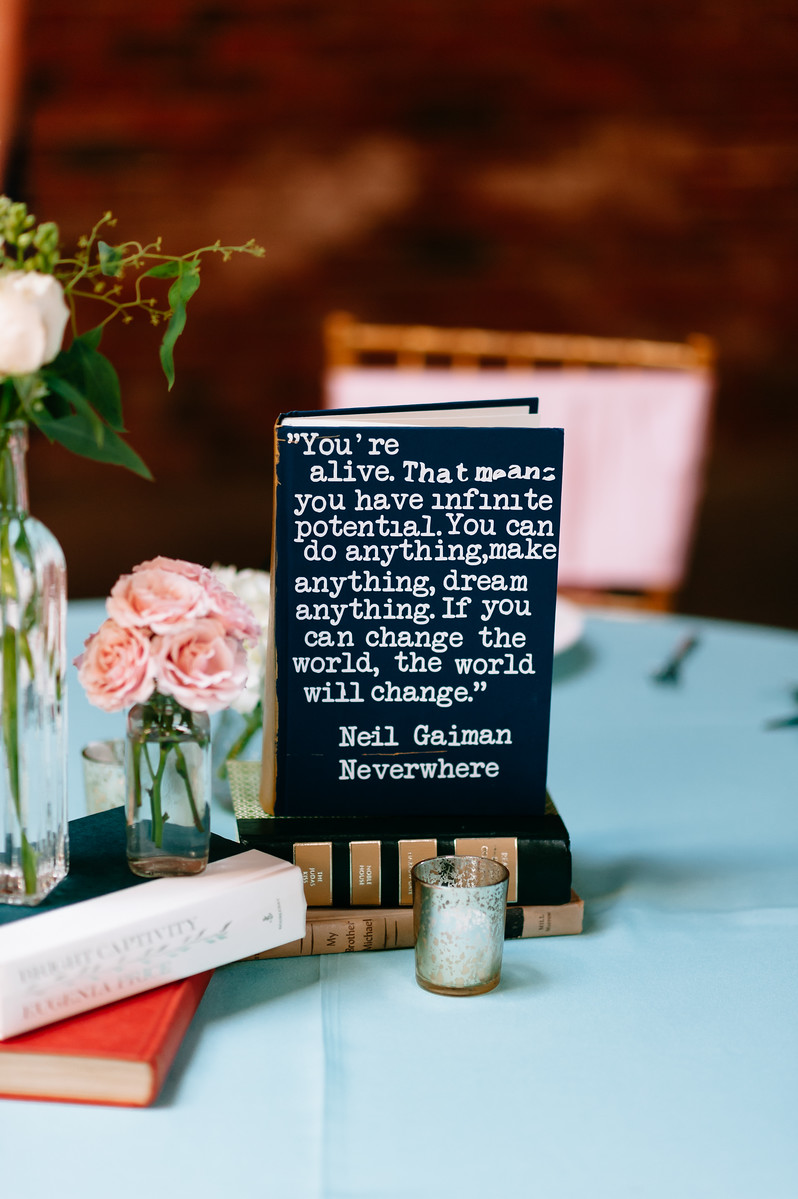 But we couldn't leave it at just books there! We had another surprise up our sleeves for our two page turners. We hung over 200 books from the ceiling, to create a magical feel throughout the entire room.
Once our bride and groom arrived, the party started. It would not have looked anywhere as wonderful as it did, or had anywhere near as much fun without our DJ and master uplighter Jim Ogle from Ogle Entertainment!
There were so many incredible moments during the night, but there's one in particular that me or anyone there will never forget.
A few months before the wedding, Kevin's father passed away. To honor his memory during the wedding, they brought his hat and cooler full of Old Style, the beer he always drank.
During the reception, the grooms uncle made a toast to his late father, and all his family members joined him on the floor to grab one of the beers in remembrance of him.
I've seen a lot of touching moments at weddings, but this takes the cake for the most perfect, special toast to a loved one I've ever seen.
Kevin and Krista are two incredibly special and wonderful people. From start to finish, it was such a special thing to be a part of making this day just as perfect as they are.